3:Sec
High quality
Paper Types
Large variety of paper stock of the highest quality:
Stock weights from 220 to 400 gsm
White and shades of white
Cream and shades of cream
Smooth or Textured
Wood free
Environmentally friendly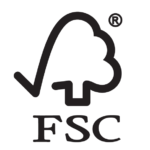 The FSC label identifies forestry products or their derivatives, including paper made mostly from cellulose coming from forests managed correctly, sustainably and responsibly, in accordance with strict standards that pay due attention to the environmental, social and economic aspects of the area.
Help us protect the environment
At 3:Sec we strongly believe you shouldn't have to pay more to protect the environment.
That is why we offer six premium quality Fedrigoni eco-friendly paper stocks at no extra cost!