1
Awards winning ordering system
2
Express delivery as a standard
3
Expertise in business cards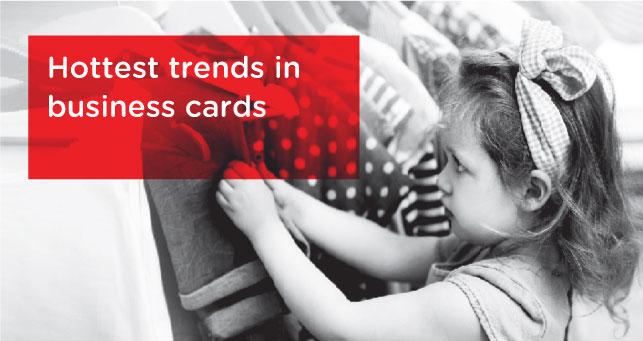 Upgrading corporate design? – Hottest and cost effective trends in business cards.
New corporate design means new business-cards; don't miss this opportunity to Spice-up your company's business cards.
We give you, the 5 hottest trends and upgrades that will take your corporate business cards to a (whole?) new level. Be sure to bring your company's marketing department up to speed:
UV selective lack: A glossy layer, placed in a predefined segment of the business card, commonly used to make your new corporate logo stand-out.
Cost: 6-8€ extra for 100 cards (in a batch order, or as pre-printed stock paper).
Rounded corners: Could be applied to any number of corners you choose, goes best with a rounded related corporate design.
Cost: Should not cost a cent!
FSC certified paper: Forget about "recycled" paper, FSC is this decade gold standard! Making sure that the paper you are using is:
Environmentally friendly.
Socially responsible.
Economically viable.
Looks much better than "slicky" paper types.
Cost: Should not cost a cent!
QR-Code: A scanable barcode designed for Smartphones, which can contain: your contact information (to save as contact) or a link to your website.
Cost: Should not cost a cent!
EZ-Packs: This is a vast growing trend among innovative corporations, it's still kept as secret among leading procurement managers, and are expected to be THE NEXT BIG THING in Corporate business-cards.
EZ-Packs are business cards bounded in a polypropylene cover, which you can detach and re-attach. EZ-Packs come in ready-to-use booklets and have a luxurious look and feel, they do an amazing Job as ice breaker on meetings! (see product demo here).
Cost: About 2€ extra for 100 cards.
If you would like to know more about us or receive a free sample contact us at:
Or visit us at:
To see what our customers think about us: