1
Awards winning ordering system
2
Express delivery as a standard
3
Expertise in business cards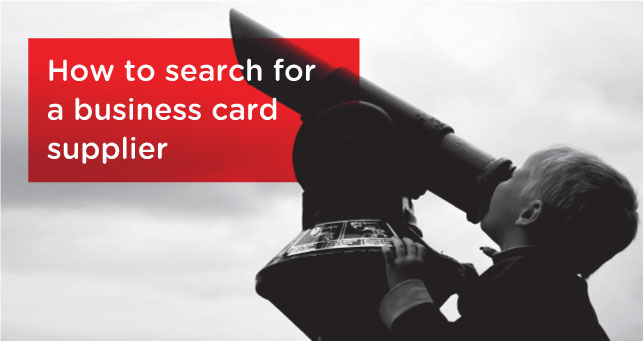 How to find a new business cards supplier for the corporation?
As a company that specializes in business-cards production for corporations, we know that finding a new print supplier is hard, that is one of the main reasons that most procurement managers tend to stay with their current supplier even when receiving bad service, and high prices, so what can you do to expand your options as a corporation procurement manager?
Google it?
When trying to google business cards supplier, you will probably get the major players of the B2C (Business to consumer) industry, companies such as MOO, VISTA, PSPRINT etc. Their main services include an on-line design wizard, a free artwork gallery and other "amazing" services you do not need.
By googling you are missing out on print suppliers that specialize in the corporate world. Suppliers that can handle strict corporation identity rules, handle internationally complicated logistics, and provide you a service level that fits specifically to your organization.
Go local?
Going local sounds great, but local print providers tend to offer you a very basic service level, which doesn't meet corporate needs, things like:
a professional on-line ordering system.
or
comprehensive logistic capabilities.
Are not being provided. More importantly: if you have many branches, even international branches, what is "local" anyway?
Get recommendations:
This may be a bit awkward, but you can call a colleague from another company. You could get a good recommendation, but you just as well can get a bad one. Just make sure that the service level they are getting now isn't already inferior to yours.
Back to google!
You can improve your previous search with a few google tricks, just write in the search bar:
"Visitenkarten" AND "Bestellsystem" AND "große Unternehmen" (Exactly the same indluding quotation marks).
The quotation marks make sure that google doesn't force irrelevant abbreviations on your expressions and search for the EXACT expression in the quotation marks. The AND word makes sure that all the terms will appear in each result.
Feel free to play with it as you wish, you can for example, add more expressions that are relevant to your needs. And you can and should apply this to all your google searches…
As a B2B company we believe in a thorough comparison between suppliers.
Give us a Consideration!
We offer a business card production service dedicated solely to big companies and international corporations. We will be happy to a part of the new potential suppliers you are considering, we offer 5 key services as Standards, these key-points can also help you to compare different suppliers:
AWARD WINNING ON-LINE ORDERING MANAGEMENT SYSTEM – FREE OF CHARGE.
24-48 EXPRESS SHIPPING AS A STANDARD – NO EXTRA CHARGE!
EXPERTISE IN BUSINESS CARDS – SIMPLE & FAIR PRICING.
NO CONTRACT – We will not bind you in a contract – order only at your own free will.
FREE SAMPLES – As many as needed until we match your CI.
If you would like to know more about us or receive a free sample contact us at:
Or visit us at:
To see what our customers think about us: