1
Awards winning ordering system
2
Express delivery as a standard
3
Expertise in business cards
QR Code
QR codes (Quick Response Codes) are 2 dimensional bar-codes that are commonly used by smart phone apps to read textual data.
One of the most common uses for QR codes is on printed material including business cards.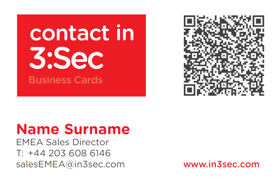 A QR code on your business card can encapsulate the same contact information that is printed on the business card. The QR code can be easily scanned using a smart phone app adding your contact info quickly and directly into the scanning device's address book.
Using 3:Sec's online order management system you can easily create and add a QR code to your business cards.
Just click the "Add QR" button and the QR code will be automatically added.
Free QR Code Generator
Need a QR Code?
We are happy to offer you an on-line QR Code generator at no cost.
Just fill in the QR Code details in the form on the right and click the "Generate QR Code" button.
Your new QR code will open in a new window. Right click the QR code and choose "save picture as".
This Form will generate a .png and a .jpg QR.
The QR will be a VCARD type QR (contact details).
For creating an URL QR, type only the URL and leave other fields empty.
Fill-in your QR code details here: