1
Awards winning ordering system
2
Express delivery as a standard
3
Expertise in business cards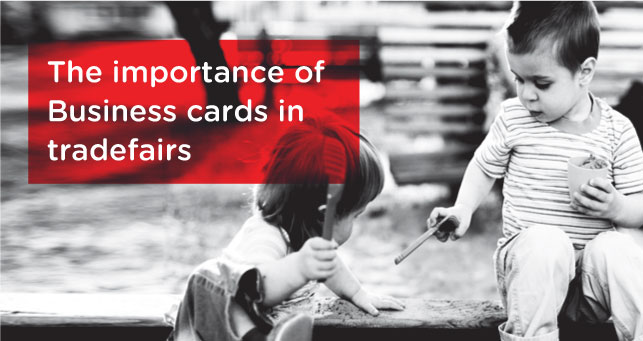 Fairs are a corner-stone for Business-Development in today's Business-world. Regardless of your title, Business-Cards is a basic tool needed for thriving in the fair: here is why…
Why fairs are important for establishing Business connections?
The Fair is the Beehive of the Business World. It's where everything happens: it's where innovations in your field are announced, where the thought leaders of your milieu come to share their insights and it's where the tone of your industry is set for the foreseeable future. If you are not there, you simply fall behind your competition.
It doesn't matter whether you're the CEO, Marketing or Purchasing manager, a buyer or sales person, or simply an expert in your field. The fair provides you with a great opportunity to boost your agenda and thrive in your Job.
Why? Because fairs gives you the opportunity to establish relationship to new business-partners and to catch-up with old ones. It's said, that the average sales person would generate as little as 10% more qualified leads in a 3 days fair, than in a month of routine office work:
Purchasing managers and buyers can fairs to find better suppliers.
Experts such as engineers or researchers would benefit from fairs by meeting counterparts and exchange information or share experiences.
Marketing managers can use fairs as a fertile ground for establishing and strengthening brand awareness.
Why Business-Cards are a crucial tool for a fair?
As Business-Cards specialists, we are often being asked whether traditional business-cards aren't a thing of the past? It's true that today people can exchange their contact details easily over the smartphone. What most people ignore with this notion is that business cards are much more than a medium for exchanging contact details, Business-Cards are the cornerstone of the modern corporation.
First and foremost, a Business card is a key tool for raising brand awareness: just ask anyone in your marketing department, how much time and thought were invested in the design of the cards, to get an idea of how crucial they are for your brand voice. Business-cards are much more wide speeded than any company or product brochure you can think of.
Second, Contact details can be easily exchanged in many other forms other than business card. But, when you hand someone your Business-card correctly, you actually give him a tangible token which is an extension of yourself. By doing so you are not just exchanging phone numbers you are establishing a relationship.
Last, there is nothing that says "call me" or "let's keep in touch…" better than a Business Card. When someone hands you over his business-cards, it means that he wants to engage in a business relationship with you. The question about whether or not he is interested is hereby off the table. It's time to make a call!
How to hand your Business-Card correctly?
Keep your Business cards available for hand-out at all times! Ideally, you should keep them in your pocket (to prevent wrinkling consider using EZPacks).
Timing is everything: try to use a pause in the conversation to hand out your card, alternatively wait to the end of the conversation, and then offer to give your card.
Your Business-card is a mirror of yourself: keep it clean and straight at all times! You can use an Etui or better yet EZPacks, to better protect your cards.
Hold your card about 2 Inches lower than chest height and make an eye contact, while handing out your card… Don't forget to Smile!
If you get a card back don't shove it immediately into your pocket. Take a second to look at the card you received. This will show the other side that you are genuinely interested in them.
Always remember: you are in a 3 Seconds ceremony, be as formal and as festive as you can when handing over your card. This way the impression you will leave will be stronger.
How about EZ-Packs?
EZ-Packs are patented and luxurious business card holders that allow you to store approximately 20 removable and high-quality business cards (without cutting marks).
EZ packs will help you turn heads and leave a lasting first impression at a trade show. They also protect your business cards from wrinkling, bend, or getting lost before an important meeting; EZ-Packs are also intuitive to use, without the need to refill, as with traditional business card cases.
You can keep business card holders in important places (office, handbag, glove compartment, etc.) so you are never in the situation where you do not carry a business card in important meetings.
Product demonstration:
Overwhelmed with fair preparations? Let us take the Business-Cards of your back!
We know how stressing the preparations for a fair can get. This is why, we in 3:Sec offer to take at least this concern off of your back.
Sign up today to receive:
✔   Up to 30% discount for orders to the upcoming Fair.
✔   A completely FREE setup of our online ordering management system tailor made to fit your needs.
Our Service Level:
✔   EXPRESS SHIPPING – NO EXTRA CHARGE (All Year Round!).
✔   EXPERTISE IN BUSINESS CARDS – SIMPLE & FAIR PRICING
Free on-line system updates!
All paper types
Any number of colors
Any number of Sides
Lamination (Matte or Glossy)
NO EXTRA COST!
✔   STAY FREE – We will not bind you to a contract – order at your own free will.
✔   FREE SAMPLES – As many as needed until we match your CI.
If you would like to know more about us or receive a free sample contact us at:
Or visit us at:
To see what our customers think about us: