1
Awards winning ordering system
2
Express delivery as a standard
3
Expertise in business cards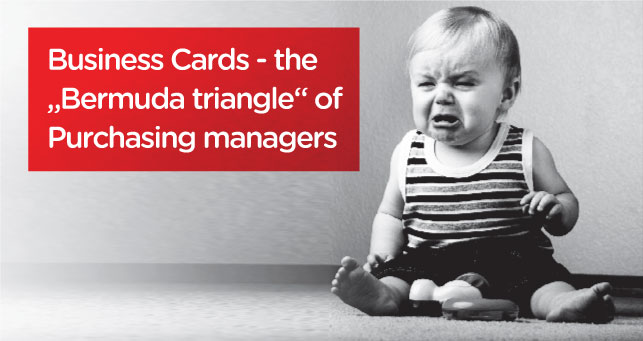 Business cards – the procurement manager's "Bermuda triangle"
Procurement Managers Hate Business Cards
Business cards are a big hassle for any procurement manager, especially for one in a big and international corporation. The frequent mistakes, the repeating quality issues, and the delivery issues experienced from different print providers convinces the common procurement manager that business cards are a hard to handle product, and that all the troubles regarding business cards is a reality that should be accepted.
In fact most procurement managers are terrified that things could go even worst…
That's why they tend to rarely change their print providers.
Print Providers Hate Business Cards
Business cards are a big hassle for print providers too. It is a well known thought around printing professionals that there is no way of making profit out of business cards, the cost and the setup times are too high, and the price is too low.
That is the main reason that most print providers print business cards as a mandatory service given to a customer without any profit along side other profitable jobs.
Some printers even use business cards as "getting a foot in the door" before trying to become a providers for the profitable products.
Result
No wonder then, that print providers tend to give a low quality product and service regarding business cards, and no wonder that procurement managers tend to try to avoid handling as possible this "Bermuda triangle" called business cards.
That's why most procurement managers tend to stay with their current supplier even when receiving bad service.
Solution
To find a solution you need first to find the source of the problem.
The fundamental problem source is that both the procurement manager and the print provider perceive business cards as a print-product, a stationary, much like envelops, letter heads and labels, but that is absolutely wrong!!!
Business cards, more that anything else are a logistic-oriented print product!
That means that you need a very good logistics understanding in order to create a method for producing high quality business cards, in low price, and fast delivery that will prevent mistakes from happening and simplify the ordering and managing need of the procurement manager and save him much precious and valuable time.
Conclusion:
Procurement managers from big companies and international corporations should embrace this approach and take their business cards printing from the current print provider and pass it to a company that specializes in business cards printing.
If you wish to learn more about us, or get a free of charge sample, we will be happy comply:
Or visit us at
To see what our customers think about us go to: